Waters Davidson Family Dentistry:
Your Olathe Sleep Dentist
Do you have issues with snoring while you sleep? Do you grind your teeth while you sleep? Do you wake up with a sore jaw or a headache every morning? Have you ever wondered what could be causing these issues? These can be signs of SLEEP DISORDERED BREATHING or Sleep Apnea.
If you're looking for an evaluation in Olathe, or need an alternative to a CPAP device and want more information about an oral appliance, call Waters Davidson Family Dentistry today at (913) 782-1330. Our friendly staff will get you set up for an appointment with a knowledgeable sleep dentist in Olathe. One of our experienced Olathe sleep dentists will work with you and your medical professional to determine the best course of therapy to help ease TMJ, snoring, sleep apnea or any other ailment that is affecting your nightly sleep routine.
Many sleeping issues can be treated using the following methods: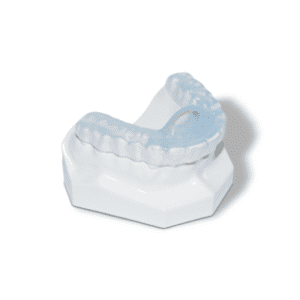 Snore Guards
A snore guard helps eliminate the rattle in the back of the throat by holding the lower jaw forward. This custom-fit appliance fits over the teeth and is worn each night while the patient sleeps. When you visit our Olathe sleep dentist, we'll recommend a customized snore guard that will provide the solution to your snoring and sleep concerns.
Night Guards
A night guard is placed on top of the teeth and is designed to eliminate grinding and clenching of the teeth. Both teeth grinding and teeth clenching can result in jaw pain, headaches, and blunted teeth. The night guard protects the biting surfaces of the upper and lower teeth. Our sleep dentist in Olathe can answer any questions you have regarding night guards and suggest the best one for your individual needs.
Sleep Apnea Appliances
Sleep apnea is a sleeping disorder caused by pauses in breathing. Repeated pauses over a night deplete the brain and the rest of the body from getting the oxygen it needs. Many people don't realize that a dentist can assist with sleep apnea; however, an Olathe sleep dentist can play a crucial role in preventing and treating sleep apnea.
A sleep dentist can help patients get a custom-fit sleep apnea device. Sleep apnea devices move the jaw forward, which reduces air resistance, snoring, and sleep apnea. This device often results in a better quality of sleep and boosts the patient's overall health.
Schedule an Appointment with Your Olathe Sleep Dentist Today
If you're looking for the best sleep dentist in Olathe, Waters Davidson Family Dentistry is ready to assist. We're dedicated to providing exceptional care and personalized attention to each and every patient we serve. Our dedicated staff knows the importance of dental health and high-quality sleeping habits. We strive to help every patient find the solutions they need to lead a healthy lifestyle.
To schedule your appointment with our team, call us today at (913) 782-1330 or contact us online. We look forward to helping with your sleeping issues and showing you why so many of our clients consider us the best Olathe sleep dentist.