Part 1 of The Evolution of Teeth: Development of Childhood Teeth
Your child's growing teeth, from baby teeth to permanent molars, require careful attention with a strict dental hygiene regimen.
The foundation for your child's permanent teeth is laid by their baby teeth. Ignoring them will not prevent a lifetime of dental problems. In order to prevent dental issues in your child's early years, it's critical to comprehend how teeth grow, how parents can encourage the development of healthy teeth, and what resources—such as the services of a family dentist in Olathe—are available.
Teeth in Baby Teeth: The Best Dentist in Olathe Says, Establish Healthy Dental Habits Early
A family dentist in Olathe explains that when the fetus is between six and eight weeks old, during pregnancy, tooth development actually starts. Tissue begins to line the jaw, providing space for tooth buds to erupt so that the baby's teeth are positioned beneath the gums at birth. A cool teething ring can soothe a baby's irritated gums around the time of 6 months of age, helping to prepare the gums for the emergence of the first teeth.
The front teeth will erupt first and continue to do so in phases until the child is two or three years old. As space is needed for the permanent teeth, you will notice that these baby teeth have gaps between them.
A child's infancy is the ideal time to start a regular oral health routine. To remove plaque and clean the gums, use a sterile gauze pad. After the first tooth erupts, use a soft toothbrush and give their teeth and gums a gentle water brushing. Remember to make your child's first appointment with the best dentist in Olathe after they turn one year old, and then continue with routine visits every six months.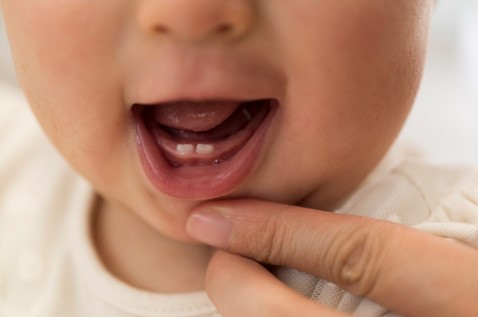 While Your Child's Teeth Develop and Grow
A child's permanent teeth will start to erupt around the age of 6 or 7. When the permanent front teeth erupt first, typically followed by the 6-year molars, the same previous pattern connected to their baby teeth recurs. A family dentist in Olathe explains the remaining permanent teeth continue to erupt until roughly the age of 13, at which point the second permanent molars, also known as the 12-year molars, erupt behind the first molars.
As your child's baby teeth fall out and their permanent teeth erupt, pay close attention. If you observe that their newly erupted teeth are uneven or not positioned correctly, it might be the result of a disorder known as malocclusion, also known as bad bite. A poor bite can increase your child's risk of cavities and gum disease because it becomes more difficult to maintain clean teeth due to crowding. To determine whether orthodontics or other treatments are required, this calls for the immediate action by the best dentist in Olathe.
Assisting Your Child with Dental Care
Your child will grow accustomed to the daily dental care regimen you started when their baby teeth first pushed through as they mature. Your child can take up these duties once they are old enough to brush and floss by themselves. A family dentist in Olathe emphasizes that you must keep a close eye on your child's brushing and flossing routine. Encourage your child to brush twice a day, after breakfast and before bed. As your child grows into adolescence and loses teeth, have them check to make sure there are no food particles left in between teeth or on the molar surfaces.
Regular checkups with best dentist in Olathe – throughout childhood – can enhance your child's oral health and lower the likelihood that they will require restorative procedures as adults. Take these steps to give your child's smile the best chance to remain healthy.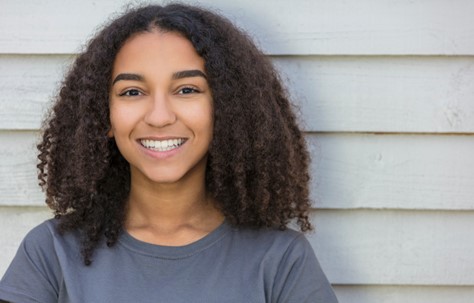 Part 2 of The Evolution of Teeth: Development of Adolescent Teeth
Orthodontics and preventative care with an Olathe dentist are likely to become more important in a teen's dental care after they have grown their entire permanent tooth set.
Instilling in your teenage child the value of proper dental care is crucial as they grow older and become more self-reliant in managing their own oral hygiene regimen. At our Olathe dentist office, we place a strong emphasis on the development of healthy teeth through proper nutrition and oral hygiene.
Maintaining Permanent Teeth and Developing Good Dental Hygiene Practices
Most kids have nearly all of their adult permanent teeth by the time they are teenagers. A young adolescent typically has about 28 permanent teeth. Most people refer to the final four permanent teeth as wisdom teeth, and they erupt between the ages of 18 and 25. Work with your teen to develop excellent dental hygiene habits in order to avert major dental care issues in the future as well as other health care complications.
Teenagers should brush their adult teeth at least twice a day to get rid of buildup, tartar, and plaque from the nooks and crannies of their teeth. Additionally, floss and scrape the tongue once a day at least to get rid of extra bacteria.
Formulating a Treatment Plan for Orthodontics
When your child's adult teeth erupt, you might observe that they are misaligned, overlapping, or poorly spaced within their mouth. This is a very common condition, and the majority of teenage patients will require orthodontic treatment. Orthodontic treatments are specialized dental operations that enhance a patient's overall smile's aesthetic appeal and the alignment of their teeth. The best dentist in Olathe or an orthodontist may recommend braces, retainers, or other appliances to treat a variety of conditions:
Braces are specifically used to adjust underbites and overbites in addition to straightening teeth. The most popular type of orthodontic care is this one.
Retainers can be used to preserve the newly straightened teeth after an orthodontic treatment, such as braces, or oral surgery, as well as to correct minor misalignment in certain patients.
Recognizing Cavities and Keeping Your Teenage Child's Gums Healthy
Many teenagers don't think about how their food decisions will affect their general and dental health for the rest of their lives. Teenagers should limit their intake of sugar in the form of soda, candy, and other high-carb snacks in order to prevent tooth decay, cavities, and other dental problems. Teens may be able to avoid cavities and the need for fillings in the future by making healthy food and snack choices and maintaining proper oral hygiene by visiting our Olathe dentist office.
There are various dental filling options available in the event of a cavity. Amalgam fillings, which are composed of multiple metals, have been used to treat cavities for almost a century. Composite fillings, which are tooth-colored restorations composed of glass or resin, are now more frequently used to treat cavities.
Although cavities are common in both children and adults, it is best to establish good dental habits as soon as possible to minimize pain and the possibility of developing additional issues as a result of cavities.
Keep making appointments to see the best dentist in Olathe at least twice a year so that your adolescent can have their teeth cleaned and checked out. Your teen's wisdom tooth growth and tooth alignment can be observed during these appointments in case your teen needs specialized orthodontic treatment.
Part 3 of The Evolution of Teeth: Adult Tooth Development
In order to maintain a healthy smile, permanent adult teeth require routine dental care. Cosmetic procedures can offer long-term solutions to a range of dental problems.
An all-encompassing oral hygiene regimen can help adults maintain the healthy dental habits they acquired as children well into adulthood. Daily brushing, a balanced diet, and routine examinations during dental visits—all provided at our Olathe dentist office. Waters Davidson is your go-to source for practical family services in Olathe—we will increase the likelihood that your permanent teeth will stay healthy.
Keeping Permanent Adult Teeth Healthy for Oral Health
Maintaining healthy teeth and gums is the aim as an adult. Plaque can be controlled by brushing and flossing your teeth twice a day. This is a habit that becomes more crucial as you age because of the health risks linked to periodontal disease and cavities. According to at our Olathe dentist office and a study released by the American Heart Association and the American Academy of Periodontology, the bacteria that cause gum disease have been linked to heart disease and strokes. Maintain strong teeth and you may have fewer health problems – especially if you stick to a low-acid, high-calcium, low-sugar diet. Also, be sure to visit your Olathe dentist regularly for checkups.
Taking Out Wisdom Teeth
Most wisdom teeth are extracted between the ages of 18 and 24, when roughly two-thirds of the root has grown, after they typically erupt in the late teens and early 20s. The ideal age range for adults is closer to the younger end because complications are less likely to occur when the root is still small.
Wisdom teeth either remain beneath the gums and cause pain or partially emerge, allowing a flap of gum tissue to grow over the tooth, when there is not enough room for them to break through along the gum line. This increases the tooth's susceptibility to infections and decay and makes it harder to maintain. It is advisable to consider any persistent gum pain as a warning indication and speak with your Olathe dentist  to determine whether extraction of your wisdom teeth is necessary.
Examining Cosmetic Operations
Many adults experience dental issues that they would like to have fixed with a cosmetic procedure at some point in their lives. At the best dentist in Olathe, we provide adult cosmetic procedures that give you long-term dental health solutions.
Dental implants are a long-lasting, permanent alternative to missing, cracked, or diseased teeth. Through surgical attachment to the jawbone, the procedure can permanently anchor:
A single false tooth
A bridge
A set of teeth
This will help with enabling the implant to blend in with your other permanent teeth.
For teeth that have become discolored from eating foods like coffee, cola, or berries, or that have yellowed with age, professional teeth whitening might be the solution. Using an expert procedure like the Zoom whitening system to whiten teeth several shades in a single dental appointment, the best dentist in Olathe can provide you with long-lasting, secure whitening results.
Veneers work well for concealing chipped or broken teeth and enhancing the appearance of discolored teeth. They are custom-fitted, bonded over teeth to enhance their appearance, and can be made of porcelain or resin. Consult your Olathe dentist  to determine whether your teeth are a good candidate for veneers; with the right maintenance, they can last up to ten years.
Throughout your adult life, maintain good dental hygiene at home and schedule frequent checkups with your Olathe dentist. Working with the best dentist in Olathe can help to identify potential cavities or gum disease warning signs during these visits, and they can also give you advice on cosmetic procedures.
At Waters Davidson Family Dentistry, we are a highly respected Olathe dentist office. We know that regular dental visits will help protect your smile and prevent disease so that you feel confident and healthy. Our dentist office in Olathe has been a source for quality dental care for years. Our cutting-edge technology and knowledgeable staff have allowed us to maintain the highest level of care and service.
We even have services associated with sleep disorders; in fact, we have many clients that consider us the best sleep dentist in Olathe. Come see why our patients never want to go anywhere else!
Call us at (913) 782-1330, visit our website to learn more about our services, or contact us online to get started today!

Your comfort and satisfaction are of the utmost importance to Drs. Waters and Davidson; therefore, they have created an office environment that is designed to put patients at ease. Because we think of each patient as an indispensable member of our extended family, the highly skilled staff here will make every effort to schedule your visits at a time and location that is most convenient for you.