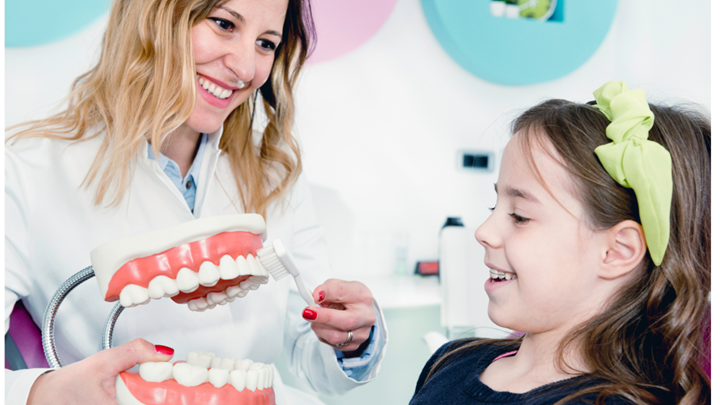 It is crucial to be positive in the early years when you teach your children about the dentist. Dental hygiene is a critical component to your child's health according to a family dentist in Olathe. Tooth decay is a common condition affecting most of the population.
Although it is common, it is highly preventable when in kids and families. As parents or caregivers of children, it's important to teach proper hygiene habits, including their teeth. Including visiting the Olathe dentist office regularly for check-ups.
Here are a few essential things to remember from an experienced family dentist in Olathe when teaching your children about their teeth and how to care for them.
#1 Make sure your child has the right tools. Take your child to the store and let them pick out the right size toothbrush that they can get excited about.  Whether it be their favorite color or one with a character on it, it's important they like it.
#2 Next, make sure they have the right toothpaste flavor; just like us all, kids have flavor preferences. There is a wide variety now, such as mint, bubble gum, cinnamon, and many more. This will help make brush time less of a struggle.
#3 Get yourself a little timer that you can set for two minutes. This is the right brushing time for adults and children alike. You might find that you, yourself, do not brush the full two minutes that the American Dental Association recommends.
#4 Create a sticker chart or a reward system for brushing regularly. It's helpful for kids, when learning new habits, to have a system in which they can keep track of their brushing. The reward should not be candy or sweet treat related but rather fun activity, picking the restaurant for dinner or maybe a fun toy.
#5 Prepare your kids by providing fun videos or books that talk about tooth brushing and dental hygiene. Check with your local library or ask a family dentist in Olathe for materials. Don't' simply say sugar is bad but explain to them through learning materials why sugar is bad and what happens to the tooth when you eat sugar. YouTube is an excellent resource for learning videos for kids, with supervision, of course.
Schedule a regular routine checkup with the Olathe dentist office today to prevent any cavities from forming. When you are seeing a family dentist in Olathe regularly, they can check the progression of growth of the jaw and teeth to make sure everything is developing on track, and they can prevent tiny cavities from growing into major problems.
A smile is one of the most memorable things about you. Receiving general dentistry services such as cleanings and X-rays on a bi-annual basis is one of the best ways to maintain an optimal smile, not to mention an important way to manage your health.
At Waters Davidson Family Dentistry, we are a highly respected Olathe dentist office. We know that regular dental visits will help protect your smile and prevent disease so that you feel confident and healthy. Our dentist office in Olathe has been a source for quality dental care for years. Our cutting-edge technology and knowledgeable staff have allowed us to maintain the highest level of care and service.
We even have services associated with sleep disorders; in fact, we have many clients that consider us the best sleep dentist in Olathe. Come see why our patients never want to go anywhere else!
Call us at (913) 782-1330, visit our website to learn more about our services, or contact us online to get started today!